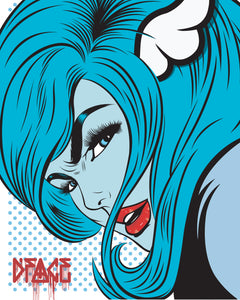 Albin Michel
D*Face│La Monographie / The Monograph
Regular price
€49,00
€0,00
Unit price
per
Tax included.
"This book will scratch your retinas. Shepard Fairey aka OBEY GIANT




"By the time you pick up this book, it will have been at least six years since my last monograph appeared. It may seem like a short time, but don't forget that what you see in these pages is my life. I'm not just talking about the long work sessions in the studio, nor the twelve-hour days that my team and I devote to our frescoes. There is also every moment of the day, and sometimes of the night, that I spend reflecting, creating, deconstructing and criticizing what I paint. It's not just a job. It's my whole life.

Originally, I wanted this book to be dedicated to my walls. I've painted a number of them now, between 70 and 80. Then I thought about all the exhibitions and all the projects I've been involved in, and I said to myself that it was a shame not to include them. a few more nuggets. Those who don't know my work will find some older works there. Those who have been following me for a long time will discover my new creations there and will be able, metaphorically, to take a look behind the scenes. »

D*Heads




A spectacular book-object in a transparent box screen-printed on both sides representing its two large walls (realized in 2018 and 2019), visible in Paris along the aerial metro – line 6 – in the 13th arrondissement.
Item Weight:
1.84kg
Hardcover:
240 pages
ISBN-10:
2226444394
ISBN-13:
978-2226444394
Product dimensions:
24.6 x 2.6 x 30.9 cm
Publisher :
Albin Michel (October 2, 2019)
---