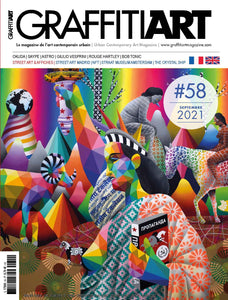 Graffiti Art Magazine
Graffiti Art Magazine #58 | September 2021
Regular price
€8,70
€0,00
Unit price
per
Tax included.
Summer under the bombs of Street Art
EDITORIAL #58 | September 2021
The Street Art summer keeps its promises and creation is, as always, there.
We take the opportunity to travel across Europe. For our first stop, we immerse ourselves in the teeming Madrid scene, a real crossroads and meeting place for graffiti artists and street artists from all walks of life. Under their bombs, Madrid is visibly transformed (open-air museum or more or less "institutionalized" underground).
Not satisfied, we head for Ostend in Belgium to dock at Crystal Ship, which we missed so much last year and which has transformed the coastal city into a Street Art destination in its own right. A three-hour drive away, in the direction of Amsterdam, we approach the STRAAT, graffiti paradise on the outside, and Street Art museum on the inside.
Wishing to go further, we immerse ourselves in NFTs, a new El Dorado for some, a new wasteland for others. Is Street Art making its digital transformation? This is obvious! To come back to basics, we put Street Art on display.
In addition to the media and the places, the forms of Urban Art are varied. If Astro, Okuda and Giulio Vesprini find themselves in the use of geometry and color, the universe of each is singular. If Okuda marries lines and figuration to give birth to surrealist pop works, Giulio Vesprini dreams of being an architect. Astro also inscribes his technique in the work of proportions to give the illusion of a third dimension to his works. For its part, Saype deploys its giant and biodegradable frescoes, always in black and white, with humanist and ecological messages directly on the grass, the sand... As for Rouge Hartley, it gives back its place to pigments for figurative and intimate works. In a very different style, Bob Tonic revisits the codes of Street Art in Pop Art fashion.
Find, in mid-October, our 2021 Guide to Contemporary Urban Art. For the impatient, it is in presale on our shop shop.graffitiartmagazine.com
Multifaceted, multicultural… Street Art in conquest mode.
---