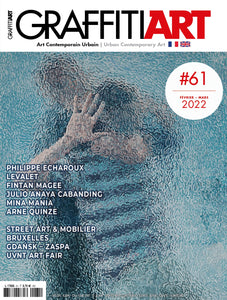 Graffiti Art Magazine
Graffiti Art Magazine #61 | February - March 2022
Regular price
€8,70
€0,00
Unit price
per
Tax included.
Street Art for origin.
Urban Contemporary Art for expression.
Urban Art galore
EDITORIAL #61 | February – March 2022
A new year begins. May it carry projects, challenges and a vigorous production of frescoes, graffiti, installations, canvases... But also, may it be filled with encounters at festivals, fairs and openings, or quite simply during the production of works that enliven our cities. So many occasions, so many places where Urban Art is hybridized, transformed, realized and affirmed in multiple forms. Urban Art is an endless emulsion full of flavors.
The current period questions us daily on how much respect for the environment and diversity are crucial in the foundation of a peaceful world. Philippe Echaroux composes between light and vegetation to deliver clear messages on a suffering nature through his "Street Art 2.0". This quest for appeasement also animates the urban poetry of artists Levalet and Fintan Magee, for whom Man is still looking for his place. If the quest is shared, the techniques are their own. The human also animates the creations of Mina Mania, which gives us an ode to femininity, and those floral of Arne Quinze which aim to federate men with open-air museums. In the hands of Julio Anaya Cabanding, Urban Art telescopes the history of Art.
To go further, we also explore different facets of Urban Art, which make its diversity and richness. Urban in essence, Street Art finds in street furniture a playground and limitless expression (diversion, coloring, support for creation, etc.). At the antipodes of a spontaneous practice, the place of aesthetic canons and classical themes challenges us on the probable academic character of Urban Art movements. Shouldn't we talk about the bubbling of Urban Arts rather than Urban Art?
We find this bubbling in Brussels through the artistic abundance of neighborhoods such as Les Marolles or the Old Town, and in Gdansk where its atypical suburb of Zaspa offers the highest density of open-air frescoes in Europe. Undoubtedly, the metaverse and the NFTs are already accelerators of the propagation and diversification of Urban Art.
For bubbling Urban Arts.
---