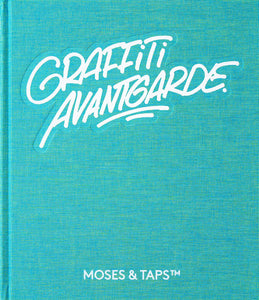 PUBLIKAT
MOSES & TAPS - Graffiti Avantgarde
Regular price
€59,90
€0,00
Unit price
per
Tax included.
Almost 10 years after the classic International Topsprayer , Moses & Taps are back. This new book is a block twice as thick, almost 3 kg: a heavyweight in every sense of the word.
With 544 pages and more than 2000 photos spread over 10 chapters, Graffiti Avantgarde contrasts with the usual discretion of the two German writers, and delves deeply into their work. The book lists their works since 2011: trains and metros in industrial quantities, but also some canvases and artistic happenings - for example at the fire extinguisher. The book is intended to be a scale balancing their legal and illegal activities, two not necessarily incompatible universes, which the artists enjoy mixing, colliding and thus blurring the limits. Where does the Graffiti stop, and where does the Avantgarde begin?
• Texts by: MOSES & TAPS ™ (German / English). Contributors: Alias ​​the Boss, Edward Nightingale, Ike, Katharina Galladé, Larissa Kikol, Niels Shoe Meulmann, Pietro Rivasi, Robert Kaltenhäuser and Tania di Britta.
• Hard cover with hot embossing on iridescent linen (blue threads on yellow fabric).
• Portrait format: 24.7 x 28.5 cm. 4.5cm thick.
• 4 different papers: natural paper 120g, high gloss 150g, matte (with anti-UV varnish).
• Printed and bound in Germany.
• Publisher: The Grifters | ISBN: 9786197267044.
---